Share the post "Ayodhya On Alert -2 Lakh people expected tomorrow, claim VHP & RSS"
There is heavy security in Uttar Pradesh's Ayodhya ahead of a Dharam Sabha or religious meeting called on Sunday by the Vishwa Hindu Parishad to push for the construction of a Ram temple and a two-day visit beginning today by Shiv Sena chief Uddhav Thackeray.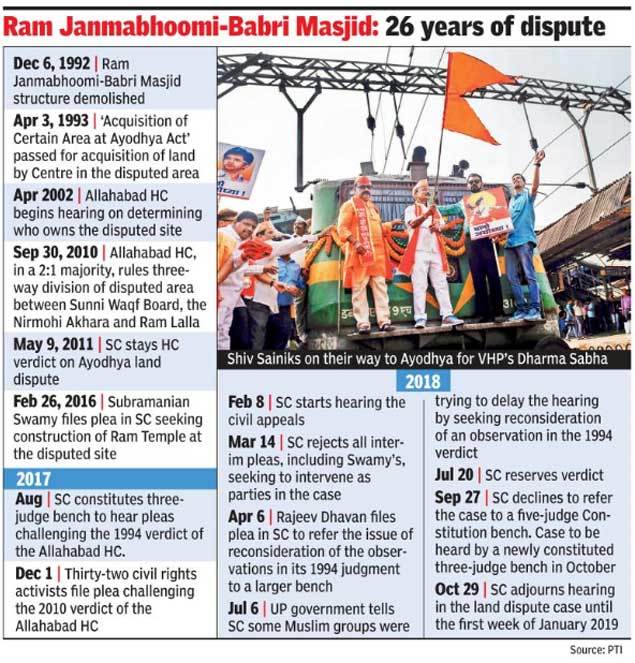 Hundreds of policemen have been deployed at the disputed Ram Janambhoomi-Babri Majid site and prohibitory orders under Section 144 of the CrPC have been imposed. Devotees are being allowed darshan at the makeshift temple there in small batches, a senior officer said.
The Uttar Pradesh Police has sounded a statewide alert, fearing disruption to law and order during the VHP's Dharam Sabha on Sunday, when more than one lakh people are expected to converge in the town. This is expected to be the largest gathering in the town since 1992, when thousands of Kar Sevaks had uprooted barricades and razed the 16th century Babri Masjid on December 6 that year.
People have started coming in for the VHP's Dharam Sabha, which will be held at the sprawling Bade Bhakt Mahal ground.
Thackeray, who is expected to arrive in Ayodhya at 1.30 pm today, will seek blessings of Ayodhya saints and address a gathering at Lakshman Quila at 2.30pm.
On Sunday, the Shiv Sena leader will visit the makeshift Ram Temple at 9 am.
Nearly 4000 Sainiks are already in Ayodhya ahead of their leader's visit and Sena posters and flags can be seen lining the roads.
The Shiv Sena has demanded an ordinance or executive order for the construction of a Ram temple and claims it has the support of more than 400 members of Parliament cutting across party lines.
"The Babri mosque was demolished in 17 minutes…How long does it take to prepare papers… to bring ordinance… from the Rashtrapati Bhawan to Uttar Pradesh assembly…They are all BJP governments," Shiv Sena MP Sanjay Raut said on Friday.